Donation to Project Dignity to support wheelchair delivery testing and promote employment opportunities for the disabled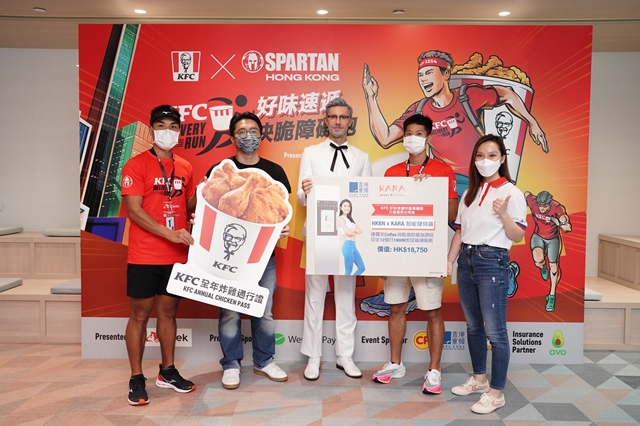 The KFC Delivery Run, co-organised by KFC Hong Kong and Spartan Hong Kong and presented by the smart logistics platform Zeek, concluded successfully on 17 October (Sunday). Among the 70 participating teams, Team Kabd won the championship. They pushed their strength and ingenuity to the limits, finishing all the 29 checkpoints together with 4 Spartan obstacle tasks across multiple districts in just 1:35 hours and scoring full points. At the same time, KFC has donated HK$20,000 of the proceeds to Project Dignity, an organisation committed to creating job opportunities for the disabled and the disadvantaged. The donation will be dedicated to supporting the testing of wheelchair delivery, helping the disabled to regain confidence and integrate into the community through job opportunities.
Karen Chan, General Manager of KFC Hong Kong and Macao, said, 'At KFC Hong Kong, we have always been passionate about sharing the simple joys of food. This year is our first-ever KFC Delivery Run, and we are delighted to see the participants enjoy the event and devote themselves to an energetic and active lifestyle. In addition, we have donated part of the proceeds to Project Dignity to support their testing of wheelchairs for delivery. We are also looking at deepening our collaboration such as field trials and further optimisation along the way. In the long run, we hope to promote social inclusion and create employment opportunities for people with disabilities, helping them unleash their potential and integrate into the community.'
The KFC Delivery Run saw 70 teams of 3 runners visit as many as 29 designated KFC stores on foot and conquer 4 Spartan obstacle tasks within 3 hours. The competition was fierce, and the teams demonstrated strength of both will and muscle to vie for the championship. Among the participants, Team Kabd performed exceedingly well with extreme speed and full points, finally taking home the championship. The champion team has received prizes valued at more than HK$100,000, including KFC Hong Kong Annual Chicken Passes and vouchers, HKBN x KARA Smart Fitness Mirror with exclusive fat burning yoga programme by Coffee Lam and free 12-month 1000M Home Broadband Service, Spartan Race HK 2021 open tickets (Sprint) and various supermarket vouchers.
The KFC Delivery Run is presented by Zeek. A smart logistics platform leveraging logistics technology, big data and solid foundation, Zeek provides a spectrum of logistics services to commercial and e-commerce clients including Quick Commerce delivery services, food and beverage and living goods delivery. Zeek was the major logistics partner for the event. Other event supporters include Avo Insurance, CP, Hong Kong Broadband Network Limited and WeChat Pay HK. Part of the event venues are supported by E-Max, Sau Mau Ping Shopping Centre and Tsz Wan Shan Shopping Centre.