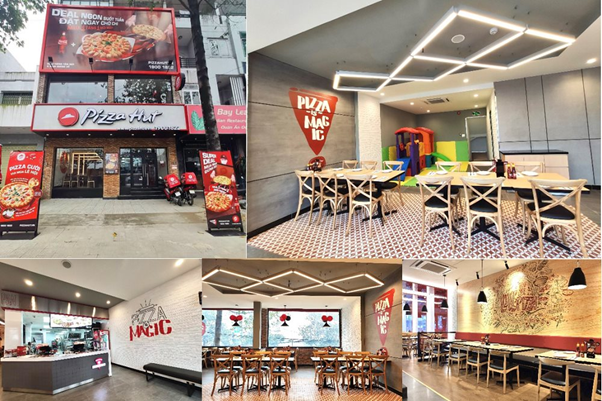 This January marks a significant milestone for Pizza Hut as it celebrates the landmark achievement of 100 stores that are bringing the love of Pizza to employees and customers across Vietnam.
Since its launch in 2006, Pizza Hut has kept evolving and transforming to continue serving Vietnamese customers, and is now the largest Pizza/Western casual dining brand in Vietnam.
Based on its success so far, the brand is planning to expand its network to 400 stores in the future in line with its mission of "Serving slices of FUN and HAPPINESS to Everyone" with high quality, freshly prepared food that is affordable to everyone.
"Pizza Hut continues to build a strong and fast growing business in Vietnam and is important part of the Jardine Matheson retail portfolio in Vietnam, along with KFC, Starbucks and Guardian. The well controlled handling of the COVID-19 situation so far by the Government has allowed us to continue investing in growing the Pizza Hut portfolio, which now provides employment to more than 3,500 people across the country. We will continue to invest in accelerated growth for this fast growing and well-loved brand and its employees," Mr. Alain Cany, Country Chairman of Jardine Matheson Vietnam said.
To celebrate the opening of its 100th store, Pizza Hut Vietnam is giving customers a golden giveaway of 10,000 free pizzas at all restaurants across the country as sincere thanks for their support, especially during 2020. The brand is also recognizing not just its current employees, but also ex-employees who have contributed to building the special culture and business for the brand over the last 14 years.
This 100th store is located in Bien Hoa city, near Saigon. This new addition is based on the global Fast-Casual-Dine-in concept and can serve customers through not just dine-in but also super-fast takeaway and delivery in an easy, fast, casual environment with a wide variety of offerings. As with every restaurant, the Pizza dough is made from scratch in the restaurant, with only the highest quality ingredients used and food being cooked to order. The restaurant also uses the latest energy saving technology to reduce its carbon footprint, and uses AI technology to monitor speed of service and other elements of food preparation. The uniqueness of this store lies in its cozy and modern interior design and facilities, suited to the customer needs in the area.
"We are absolutely delighted for Pizza Hut Vietnam to have reached the 100th store milestone amid all the challenges we face. However, the timing to achieve this is also the best reflection of the Jardine Restaurant Group's confidence and determination to continue investing in Vietnam – one of the most exciting markets in Asia for decades to come," Mr. Andrew Wong, Chief Executive Officer of Jardine Restaurant Group, said.
Stepping up the out-of-store strategy to capture the shift in customer demands
Since the first store with a typical Red-Roof (restaurant) concept, Pizza Hut have been swiftly moving from "Dine-in only" model to out-of-store strategy. It is building a strong brand across three channels with a good balance of the "three legs" for Dine-in, Takeaway and Delivery whilst partnering with big Food Aggregator brands including Grab, Now, Loship and GoJek to ramp up the delivery channel alongside its own delivery fleets.
Creating a Digital-First Brand, inside and outside
Responding to a data-driven, app-powered, and hyper-connected world, Pizza Hut Vietnam is also transforming its organization and business.
Multiple digital Order channels: The New Fast Casual ordering site (www.pizzahut.vn) was launched in mid-2020 to reduce the time to ordering. The digital loyalty program App has over 500,000 members and contributes to large proportion of sales. Recently, in order to make the customer journey even more frictionless, Pizza Hut launched the 45 second ordering via Chatbot on Facebook Messenger in partnership with www.FPT.Ai.
Fully integrated online business: The online business which is a significant part of the sales is fully integrated – ecommerce orders from multiple channels including Food ordering Apps flow seamlessly and instantaneously to the correct restaurant/Kitchen with zero human interaction enabling us to serve large numbers of customer orders seamlessly.
Restaurant Technology: Kitchen Display systems (KDS) deployed in all restaurants allow orders to be prepared at store in order of priority with a goal to get Hot and Fresh Pizzas to the customer with tracking of every step in the process.
AI Applied to restaurant operations: Kitchen processes as well as service levels are monitored real time with AI (Artificial Intelligence) application on the camera feeds from each restaurant.
QR code payments: Through partnership with VnPay, customer can pay truly contactless manner using QR code involving zero touch.
In-house Tech team: Pizza Hut is expanding its in-house software development team and capability.

Living to make pizza – and innovate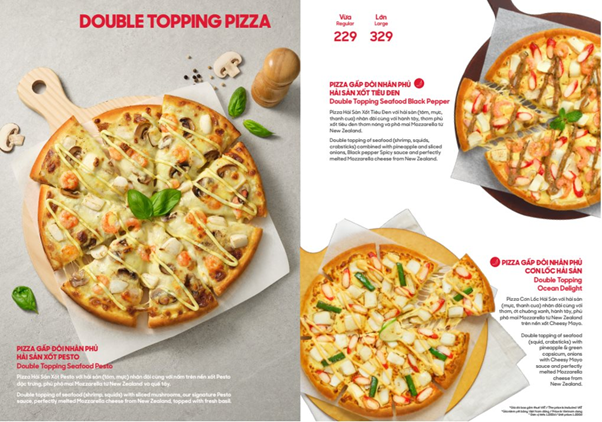 Being a well-known pizza chain in the world, when coming to Vietnam, Pizza Hut inherits its superiority in premium quality and service. Despite unique and excellent pizza flavor, service, friendly staff, it has made tireless efforts in product innovation to meet the increasingly sophisticated culinary taste of young diners who are always looking for new and exciting products.
Not only investing in its core products by localizing the taste and improving the quality, Pizza Hut has also developed a value range with very good products at reasonable price to make good delicious food accessible to everyone. In the meantime, it has developed great Flash LTO and LTO campaigns in which product distinctiveness and relevancy is the hook to drive "talkability" in the market and thus help build brand awareness better. Some of the good examples, to name but a few are the signature Cheesy Bite pizza – one of the most loved products, Matcha pizza for good health, a pair Sun-Moon pizza with distinctive shape and concept and recently the Salad Mango and Shrimp pizza and Coconut Shrimp pizza launched in 2020 – an exciting combination of seafood toppings and fruits.
On top of that, building Trust through Food Safety and Assured Customer Experience is among our top priorities in operating the business, especially in the context of increasing concern of customers over the health and hygiene matter. At Pizza Hut, only fresh, high-quality ingredients are properly selected, stored and cooked. Food Safety Certification (FSCC) and Assured Customer Experience (ACE) assessment are conducted on a monthly basis to make sure these rules have been followed through strictly and consistently.
Build an "A" team and a "Great Place to Work"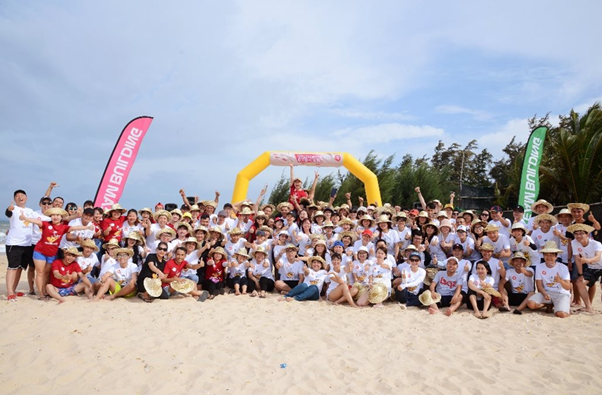 With a mission "Sharing a Slice of Fun and Happiness to Everyone", Pizza Hut is committed to providing a healthy and transparent work environment with lots of Fun and Caring to all of its dedicated employees. During the Covid-19 crisis, employee income is fully protected with no unpaid leave and job security is guaranteed. Most of the engagement activities have been maintained in flexible ways to keep employees stay connected despite physical distancing.
It is believed that people are the most valued asset of the business. Thus, employees of Pizza Hut are provided with world-class training courses. They are given the best training exposure overseas every year to learn from and exchange the knowledge with other markets. At Pizza Hut, people are encouraged and empowered to lead and contribute to their fullest potential.
Delivering meaning through community programs

As part of its key strategy "Serve the Community" in the upcoming years, Pizza Hut wants to share and contribute back to the community through various CSR projects. Many more charity programs will be organized to help underprivileged children and marginalized groups in Vietnam. Additionally, the brand is running Zero Waste projects to help the environment and change people's mindset to become more mindful in consuming energy (Power savings initiative at Stores and Office; Waste Management; and Replacing non-biodegradable plastic items).
In 2021 Pizza Hut is committed to giving 10,000 free pizzas to underprivileged people, providing 100 jobs to marginalized groups and organizing 1,000 birthdays for orphans and children with disabilities.
"We continue to focus on our mission of "Serving Slices of Joy and Happiness to Everyone", including our most important asset, our employees. Pizza Hut Vietnam is a "digital first" business with a large portion of revenue coming from e-commerce/digital sources, and using the most advanced technology, including Artificial Intelligence solutions, to monitor and improve store operations. At the same time, the heart of our business is our delicious, safe and hygienically prepared food, which is freshly prepared for each customer using only the highest quality ingredients sourced from audited suppliers. We continue to focus on building a more sustainable business, and have reduced energy usage significantly, and continue on our journey of reducing/reusing and recycling various kinds of waste, including single-use plastic across the supply chain. Our team of 3,500+ "Hutters" who bring the brand to life every day for millions of customers look forward to continuing our mission and contributing to the community," said Mr. Anhul Chauhan, Chief Executive Officer of Pizza Hut Vietnam.