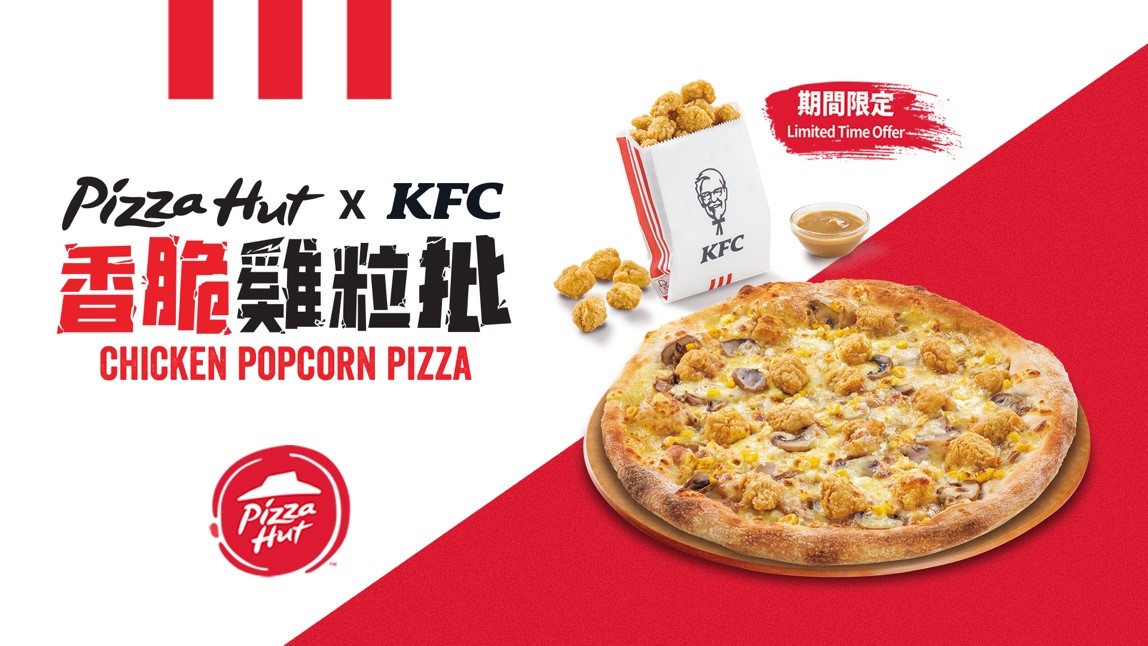 Pizza Hut and KFC's Limited-edition "Chicken Popcorn Pizza" is the Tastiest Team-Up for the Year
Pizza Hut is always pushing the boundaries of food innovation – today announcing the launch of a delicious collaboration with KFC, the masters of fried chicken. The "Pizza Hut x KFC Chicken Popcorn Pizza" is a limited-edition pizza that combines the best of both worlds in every bite – available from 5 November 2020, only in Hong Kong and Macau.
Featuring signature ingredients from both brands, the 'Pizza Hut x KFC Chicken Popcorn Pizza' is a match made in food heaven. Pizza Hut's iconic crispy crust is topped with the KFC's perfect chicken snack Chicken Popcorn and their classic Gravy, together with a generous serving of cheese, sweetcorn, and mushrooms. Different types of Pizza Hut crusts are also available, including the newly launched Hand Crafted pizza – light and airy, and made from dough produced fresh daily.
The 'Pizza Hut x KFC Chicken Popcorn Pizza' (regular-sized from $134 / large-sized from $170), can be paired with a variety of set meals, available for dine-in lunch sets and delivery / takeaway for Set for 1. Customers can upgrade to the 'Chicken Popcorn Pizza' for free, upon purchase of any set meals. What's more, for any purchase of the limited-edition pizza, customers will also receive a KFC coupon.
"Pizza Hut x KFC Kitchen" Mobile Co-op Cooking Game
To celebrate their tasty partnership, the two brands are also launching 'Pizza Hut x KFC Kitchen', a mobile game that challenges two players to craft a 'Pizza Hut x KFC Chicken Popcorn Pizza' against the clock, playing as the Pizzatainer and Colonel Sanders.
Teamwork is the name of the game as players have to knead the dough, fry the chicken popcorn, and bake the pizza too. Complete the tasks in the time given to win Pizza Hut and KFC coupons.
For more information, please visit: www.facebook.com/pizzahut.hk