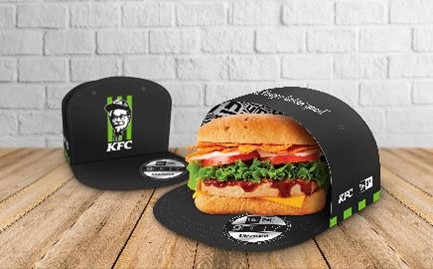 KFC Unveils Plant-Based New Era Series with Nuggets and Burger
Bringing Together Food and Fashion with KFC x NEW ERA Custom 9FIFTY Snapback Cap
The craze for plant-based meat has taken the world by storm! Last year, KFC U.S. launched a trial run of the Beyond Fried Chicken. The series was an instant hit with foodies worldwide, as well as a hot topic among media and the food industry. Now, Hong Kong diners no longer need to watch with envy, as KFC HK introduces two products that incorporate plant-based meat – the New Era Nuggets and the New Era Burger – at selected locations across Hong Kong starting from 29 June. To mark the occasion, the chicken expert is partnering with international lifestyle brand New Era to launch a special edition 9FIFTY snapback cap, featuring none other than the KFC founder Colonel Sanders himself.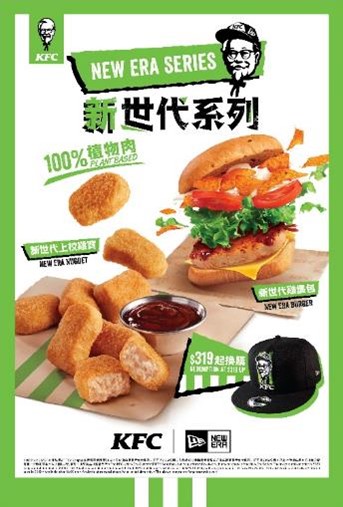 Available at selected KFC stores, the New Era Series includes:
The New Era Nuggets (five-piece à la carte $29; KFC Home Delivery add-on: $35). This green spin on the original chicken nugget is made with plant-based ingredients. Each set contains 12 grams of non-GMO, plant-based protein and is free of cholesterol or synthetic hormones. The nuggets are fried to a bouncy texture and crispy, golden exterior. The meat-like interior remains juicy and tender, providing satisfaction paralleled with our classic nuggets. Served with a classic BBQ sauce, these delicious nuggets are difficult to stop at one.
New Era Nuggets Combo ($39): New Era Nuggets (five pieces, including BBQ sauce), Criss-Cut Fries, Medium Soft Drink
The New Era Burger (à la carte $49) includes a plant-based patty, which is made with an array of ingredients: soy, wheat, pea protein, organic grains and vegetables. Containing no cholesterol and no saturated fat, this burger boasts a similar texture and flavour profile as its meat-based counterpart. The patties are baked to an aromatic and toasty golden brown. Together with Italian focaccia, sliced cheese, salad dressing, BBQ sauce, fresh lettuce and tomatoes as well as a very special ingredient – tortilla chips, for its satisfying crunch – the New Era Burger provides a layered texture and taste experience, while perfectly balances juiciness and crispiness. To literally cap off the experience, the burger is served in an innovative packaging that mimics New Era's trendy snapback design.
New Era Burger Combo ($59): New Era Burger, Criss-Cut Fries, Medium Soft Drink
To celebrate the launch of the two lean and green menu items, New Era – the trendy New York-based brand known for championing active lifestyles – has created a special-edition cap sold exclusively at KFC outlets in Hong Kong. The KFC x NEW ERA Custom 9FIFTY Snapback ($359) brings a refreshing twist to KFC's iconic motifs. Not only is the restaurant's founder, Colonel Sanders, shown to be donning the fashionable snapback, KFC's iconic red-stripe design also goes green to align with the ethos of the new menu offerings.
*The KFC x NEW ERA Custom 9FIFTY Snapback can be purchased in-store with any purchase of the New Era Series. The in-store add-on price is $339 (single purchase price is $359). The Snapback can also be purchased through KFC mobile app Click & Collect or KFC Delivery with any purchase of the New Era Series. The Click & Collect or Delivery add-on price is $319.