KFC and Spartan Host First-ever KFC Delivery Run in Hong Kong
Challenging Urban Adventurers with a New Urban Orienteering Format and Promoting an Active Lifestyle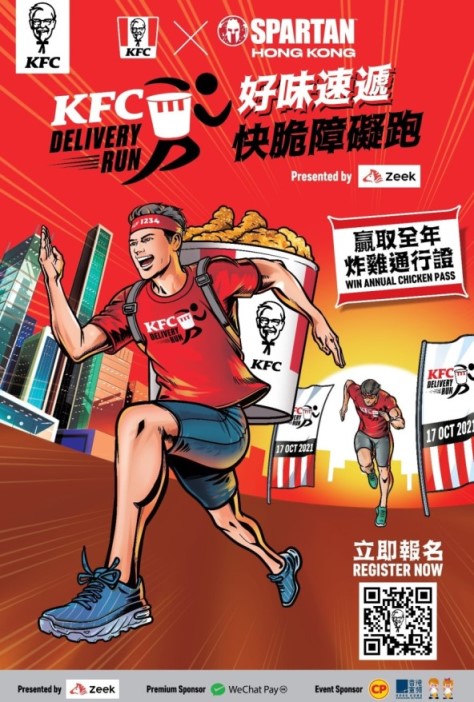 For the first time ever, KFC Hong Kong is teaming up with Spartan, the world's leading endurance sports and extreme wellness brand, to host the KFC Delivery Run, presented by Zeek, the smart logistics platform, on 17 October 2021 (Sunday). The race will feature a brand-new urban orienteering format and some signature Spartan challenges. It aims to promote an active lifestyle and offer a unique opportunity for people to explore the city in a fun way.
Karen Chan, General Manager of KFC Hong Kong and Macao said, 'At KFC Hong Kong, we pride our brand on being the chicken expert that spreads joy and fun to our neighbourhoods and communities. Through the KFC Delivery Run, we want to inject fun into the city and encourage people to live an active life despite new challenges. Apart from that, we want to take this opportunity to pay tribute to our delivery team as well as all riders at large who have been working hard to deliver hot and fresh meals to our homes during this pandemic time.'
The KFC Delivery Run is open for enrolment until 30 September 2021 (Thursday) on a first-come, first-served basis. On 17 October 2021 (Sunday), 70 teams of 3 runners will compete in a 3-hour run. They will carry a special KFC delivery bag and plan their own routes to earn points by visiting up to 29 KFC checkpoints on foot. During the race, these teams will split up to cover more ground, but they must present themselves together as a team at both the start and finish points at E-Max, Kowloon Bay and Hung Hom Ferry Pier, respectively. Making the experience even more intense, they can earn extra points by conquering four obstacle tasks at designated checkpoints specially designed by KFC and Spartan for this race.
Teams who complete the race will take home various exciting prizes according to the total points they earn. The champion team will receive prizes valued at more than HK$100,000, including KFC Hong Kong Annual Chicken Passes and vouchers, HKBN x KARA Smart Fitness Mirror with exclusive fat burning yoga programme by Coffee Lam and free 12-month 1000M Home Broadband Service, Spartan Race HK 2021 open tickets (Sprint) and supermarket vouchers.
The KFC Delivery Run is presented by Zeek. A smart logistics platform leveraging logistics technology, big data and solid foundation, Zeek provides a spectrum of logistics services to commercial and e-commerce clients including Quick Commerce delivery services, food and beverage and living goods delivery. Zeek will be the major logistics partner for the event. Other event supporters include Avo Insurance, CP, Hong Kong Broadband Network Limited, Nissei and WeChat Pay HK. Part of the event venues are supported by Sau Mau Ping Shopping Centre and Tsz Wan Shan Shopping Centre. For more details of the KFC Delivery Run, please visit www.kfcdeliveryrun.kfchk.com.